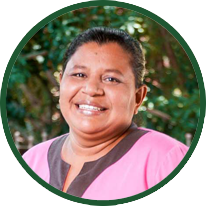 Housekeeping staff - Mrs. Jenny Jiménez, Nicaragua
Jenny is from the north-east of Nicaragua, a town named Chinandega, where she obtained an assistant nurse certificate at the National Technological Institute - INATEC- and supported the health center of the El Bejuco community.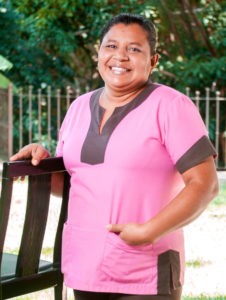 Her main mission at the Retreat is to make each patient feel at home. She enjoys contributing to the healing process of each patient and treating them with love and respect. As she says "an experience that is priceless" where she can not only give to others, but she can learn and help to heal herself.
With a kind smile, she will always be there to help you cope with your treatment. She is the first one to wake up, making sure the Retreat is completely cleaned by strict rules and protocols that include the use of organic cleaning products, white vinegar and baking soda. For her, the Retreat has given her the knowledge on how to make things easy and accessible to patients so they can be stronger and healthier, day by day.
In Costa Rica she lives in the canton of San Carlos where you can find one of our most important tourist attractions- Arenal Volcano.
Languages: Spanish