All you need to bring are clothes and toiletries. Dr. Gautier will provide everything, down to special toothbrushes and hair dryers. He will go over cosmetics and toiletries with you, and show you what's healthy or not.
You can bring ONE family member or a helper/care giver at no extra charge! They can stay and eat for free, providing they stay in the same room as the patient. You can also arrange for a second room if needed.
All food is provided and prepared by a staff chef, supervised by Dr. Gautier. Since food is an ESSENTIAL part of our treatment, a lot of time will be spent with you on food choices and preparation. A proper diet kills cancer cells, does not promote their growth and proliferation. Click here for clinical proof of the cancer fighting abilities of proper diet.
Our retreats are located in Escazu, Costa Rica:
A great place to stay in while in San Jose is at Escazu, considered by most Ticos (local Costa Ricans) to be among the most posh and upscale areas of the city of San Jose. Ideal for the weary traveler who wishes to catch up on some much needed rest and relaxation, Escazu is a quiet, beautiful and secure suburb with all the comforts and trimmings of modernity.
A colonial town, Escazu is a premier suburb is situated just 7 km west of downtown San Jose. Spread out over a hillside over looking San Jose and Heredia, Escazu is made up of 3 adjoining neighborhoods; San Antonio de Escazu, Escazu Centro and San Rafael de Escazu. With the largest population of expatriates settling down here (mostly North Americans), this part of the city is a quite exclusive.
Map of the Area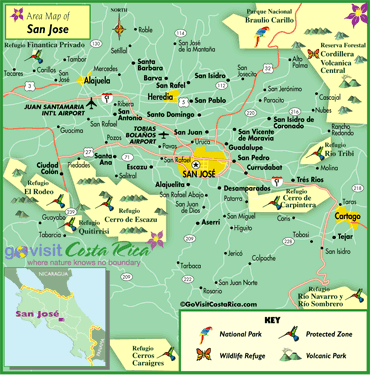 Easily accessible from all highways that lead to Costa Rica's most popular attractions, Escazu is just a 10 minute drive downtown San Jose. Here one can find a car wash, an English movie theatre, a luxurious country club and a number of bowling alleys. There are also many fine restaurants and dining areas in this part of town, with an excellent nightlife. Banks, pharmacies, shops, grocery stores and even an 18-hole championship golf course can be found here, along with one of the biggest and most modern shopping malls in Central America, Multi Plaza. Even the US ambassador to Costa Rica has his residence in Escazu.
About 600,920 Americans are expected to die of cancer – that's more than 1,650 people a day. Cancer is the second most common cause of death in the US, exceeded only by heart disease. Cancer accounts for nearly 1 out of every 4 deaths in the United States. There are...